SURBEX TAB Z
Rs.353.00
Rs.318.00
/products/surbex-tab-z
SURBEX TAB Z
Rs.318.00
Description Surbex-Z tablet belongs to a group of medicines known as multivitamins. It is composed of multivitamin with mineral. It is primarily used to treat nutritional deficiencies. It also maintains the level of nutrients in the body. Surbex-Z tablet fulfils additional nutritional requirement in case of pregnancy.
44727222894865
1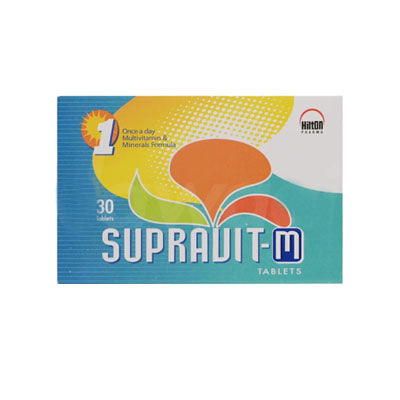 SUPRAVIT M TAB
Rs.1,137.00
Rs.1,024.00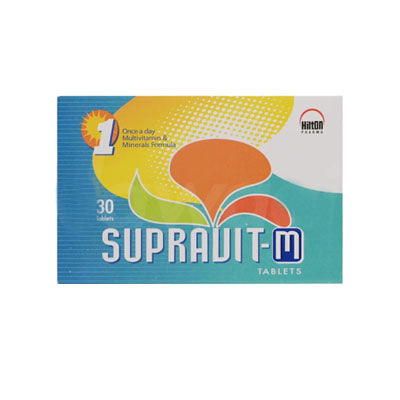 /products/supravit-m-tab
SUPRAVIT M TAB
Rs.1,024.00
Supravit M tablet contains vitamins and minerals that are essential for normal metabolic functions, including hematopoiesis. It is helpful for psychological stress, nutrient deficiency, anaemia, osteoporosis, and other conditions. It is a combination of liberal amounts of essential vitamins, minerals, and trace elements needed by the body during periods of increased energy requirement during disease.
44731213152529
1
REVITALE TAB MULTI
Rs.314.00
Rs.282.00
/products/revitale-tab-multi
REVITALE TAB MULTI
Rs.282.00
Description Revitale multi is a multivitamin and mineral supplement tablet. For prevention and treatment of vitamin and mineral deficiency. To meet the increased requirements of vitamins and minerals during pregnancy and certain illnesses, use the Revitale multi tablets daily. Get this product at Dawaai, offering the most reasonable prices in Pakistan.
44727153754385
1